Healing Bark Face Mask
Healing bark mask or healing bark face mask refers to a beautifying or cosmetic face mask that is made from the bark of the Thanaka tree (Hesperethusa crenulata or Limonia acidissima).  Additionally, it is oftentimes referred to as applewood, monkey fruit, or sandalwood. It is indigenous to Burmese (Myanmar) cultures and has been used by men, women, and children for over 2,000 years. The face mask is made by grinding Thanaka bark into a fine powder and then mixing it with small amounts of water to form a paste that can be applied to the skin.
Healing Bark Uses
Today, healing bark cream or paste is primarily used to beautify facial skin. However, the opaque yellowish paste can also be used as an anti-aging, anti-fungal, antiseptic, and astringent cosmetic. Furthermore, the Burmese also use the healing bark mask to cool the skin, prevent acne, and protect the skin from the harsh UV rays of the sun. Although the healing bark face mask is used primarily women and young girls, it is often used by men and young boys as well.
Primary Active Ingredients
The two primary active ingredients in Thanaka bark are coumarin and marmesin. The antioxidant, anti-inflammatory, anti-fungal, and anti-bacterial properties of the healing bark mask are attributed to coumarin. Furthermore, the presence of marmesin makes the face mask (when worn in a thick layer) an efficient absorber of UVA rays which make up 95% of all the sun's UV rays which damage the skin. If you've ever used a tanning bed, you've been exposed to UVA radiation. In addition to this, a third ingredient known as arbutin, gives the face mask its skin brightening properties.
Frequently Asked Questions
People who are unfamiliar with Thanaka and the healing bark face mask often have lots of questions before using the product. Here are 5 of the more commonly asked ones and the answers to them:
Can healing bark be used every day?

 Yes. Use it 2 to 3 times per week for normal skin.  It can be used once daily for problem skin. You can use the product as frequently as you want.



Can it be used on all skin types?

Yes it can. Not only is it effective in the prevention of sun damage to the skin, it actually helps to revitalize it.



Is the healing bark mask safe to use?

Not only is it safe to use, it works on even the most sensitive skin types.
What can you expect the product to do?

You can expect Thanaka to rejuvenate, repair, and revitalize your skin, thereby making it smoother in the process.



What's inside healing bark?

The healing bark face mask is made from organically grown Thanaka of the highest quality.


Unlike clay masks, the healing bark mask can easily be washed off after drying (usually 20 minutes) using lukewarm water.

Different Types of Healing Bark Face Masks
As a beauty product, you can mix different ingredients with the Thanaka powder to make different face masks that yield different results.  For example, the traditional Myanmar healing bark face mask is made by mixing 1 to 2 teaspoons of Thanaka powder with 1 to 2 teaspoons of water to form a creamy yellowish paste that is applied evenly over the face. It usually dries within 5 to 10 minutes depending on how thickly it's been applied. This face mask will make the skin smoother and softer while at the same time evening out your skin tone.
Today, you can purchase Thanaka as a beauty or makeup product in cream or powder form. It is believed to have an anti-bacterial and anti-fungal properties that is often used to treat and prevent acne.
The following are 4 other types of face masks that can be created using Thanaka powder and different ingredients:
Brightening, smoothing, and softening face mask 

– mix Thanaka powder with avocado or coconut oil, honey, and turmeric

Gentle exfoliating face mask 

– mix Thanaka powder with honey and milk

Nourishing and rehydrating

– mix Thanaka powder with ground walnuts, honey, and milk

Pore size appearance reducing and impurity reducing face mask

– mix Thanaka powder with chamomile tea and green clay
For more information regarding our healing bark face mask please visit our website at your earliest convenience.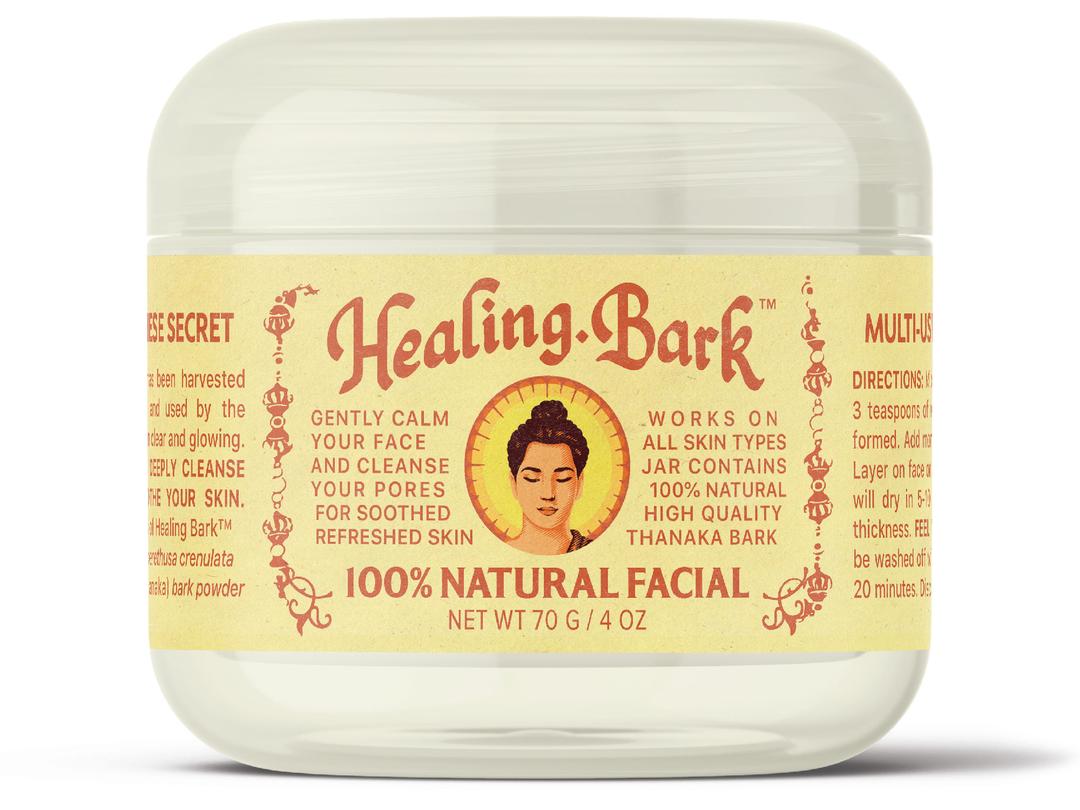 Original Healing Bark Face Mask

100% Pure Thanaka Powder from hidden Myanmar forests
Used by locals to keep skin clear and glowing for centuries
100% Pure Grade A Thanaka Powder
Keep your skin younger

Healing Bark Mask Kit

(1) Original Healing Bark Mask and (1) Healing Bark Mixing Set


Used by locals to keep skin clear and glowing for centuries
100% Pure Grade A Thanaka Powder
Keep your skin younger

What people are saying about us...
★ ★ ★ ★ ★

"I've been using proactive for years, but it never fully got rid of my acne. I decided to try healing bark in my routine, and OH MY GOD!!! my skin looks better than ever before!!"
★ ★ ★ ★ ★
"... and after using it for a month I can definitely say its worth the money! It's helped clear up my acne and redness so much. I use it almost every night."
★ ★ ★ ★ ★
"Healing bark has been a miracle for my sensitive skin- other face masks irritate me but this one is all natural so it doesn't. My skin looks so much brighter and healthier!"
★ ★ ★ ★ ★
"... so I bought this for my daughter to try and she hasn't had a single breakout in over a month! Her acne isn't totally gone, but her skin looks the best its looked all year."