Thanaka Face Mask
The Thanaka tree is commonly found in southeast Asia. The technical names for these trees are Hesperethusa crenulata and Limonia acidissima but they are more commonly referred to as applewood, monkey fruit or sandalwood. It is indigenous to Myanmar (formerly Burma) and has been used by the Burmese culture for more than 2,000 years as they believe it cools the skin, as a cosmetic product, for skin decoration, and as a sunscreen. 
Properties of the Thanaka face mask
The bark of the Thanaka tree is ground into a very fine powder and mixed with a small amount of water to make a yellow paste. As a Thanaka face mask, the locals believe it can be used as an anti-aging, antifungal, antiseptic, and astringent cosmetic. In addition, they believe it can also be used to prevent acne and protect the skin from the sun's harsh UV rays like a sunscreen. As with many other types of medicinal plants, chemical properties of the Thanaka tree have been the focus of many research studies.
Coumarin and marmesin are the two active ingredients in a Thanaka face mask. Coumarin is widely known for its antioxidant, anti-inflammatory, anti-fungal, and anti-bacterial properties. Consequently, it is thought to be excellent natural remedy for acne and other skin conditions because of the presence of marmesin.
Thanaka is primarily used as a sunscreen when worn in a thick layer because it absorbs the UV rays of the sun.  Another chemical found in the powder is arbutin which is thought to brighten the skin.
Characteristics when applied

When mixed with a small amount of water, the Thanaka powder turns into a creamy, yellowish paste. When applying a Thanaka face mask, you'll notice a cooling effect and once the paste has dried, it is not uncomfortable to wear. In most cases, the paste has a slight sandalwood smell to it, although it may have a neutral scent at times or no scent at all. Unlike clay masks that typically leave the skin somewhat pinkish looking, the Thanaka face mask is believed to brighten the skin.
Furthermore, clay masks are difficult to remove once they've had sufficient time to dry. This is not the case with the Thanaka paste which is washed off easily after it's dry.  Additionally, the skin does not feel taught like it does with other types of face masks. Many who have applied a Thanaka face mask claim that it is the ideal mask for people with sensitive skin. When you take all of these characteristics into account, it's easy to see why the Burmese culture has used this for over 2,000 years.
Other Types of Face Masks using Thanaka


One of the advantages of using Thanaka to make a face mask is that you can add other ingredients to create face masks that affect the skin in different ways. Here are a few examples of single application masks to be aware of:
A mixture of 3 to 4 tbsp. chamomile tea,2 tsp. green clay, and 2 tsp. Thanaka powder will make a refreshing face mask that decreases the size of your pores and reduces skin impurities.
 
For a more effective way to nourish and rehydrate the skin, mix 1 tsp. honey and 4 tbsp. milk with 2 tsp. Thanaka powder. This mixture forms an excellent exfoliating paste but is gentle on the skin.


Mix 2 tbsp. avocado oil or coconut oil, ¼ tsp. honey, and ¼ tsp. turmeric powder with 2 tsp. Thanaka powder to brighten, smooth, and soften facial skin.


Mix 9 g. of Thanaka powder with 3 g. of glycerin and 25 g. of honey to make a soothing, hydrating Thanaka face mask.


The natural answer
It's unfortunate that we live in a world that is controlled by technology and develops so many chemical and synthetic beauty and cosmetic solutions. This has caused us to lose turn away from nature and the effective ways that it can solve many of our daily problems. Thanaka is a premium eco-friendly, natural solution for better skin care. To learn more visit our website today.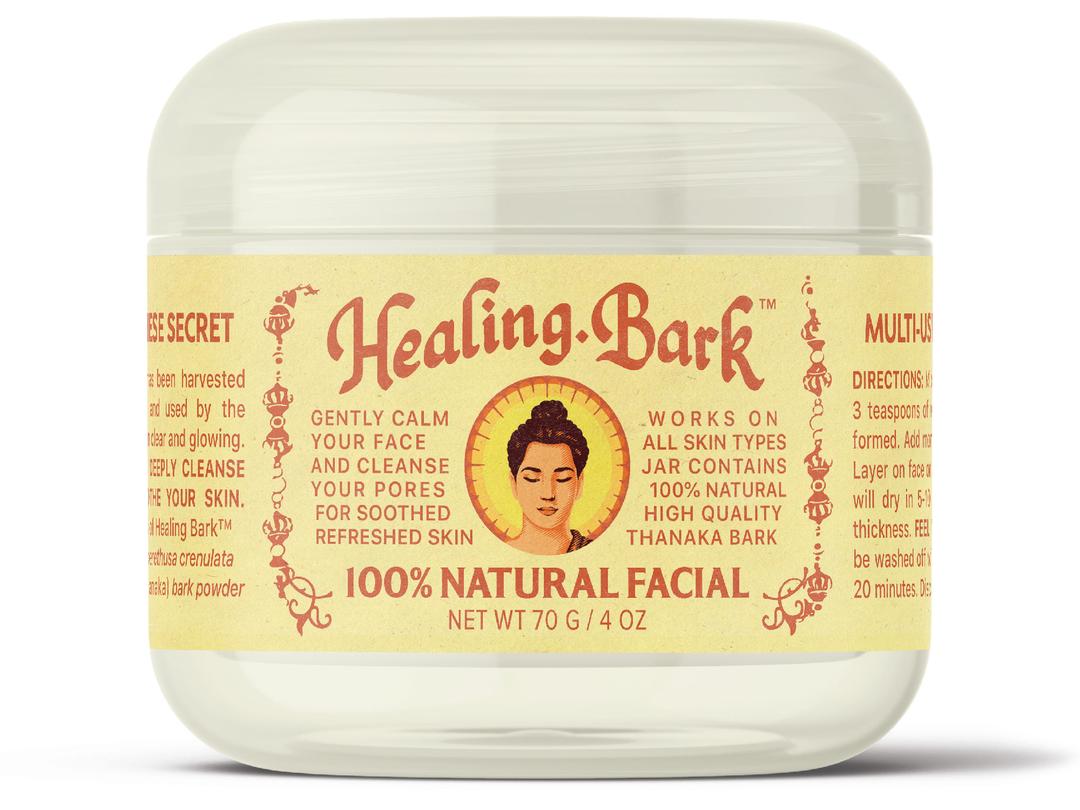 Original Healing Bark Face Mask

100% Pure Thanaka Powder from hidden Myanmar forests
Used by locals to keep skin clear and glowing for centuries
100% Pure Grade A Thanaka Powder
Keep your skin younger

Healing Bark Mask Kit

(1) Original Healing Bark Mask and (1) Healing Bark Mixing Set


Used by locals to keep skin clear and glowing for centuries
100% Pure Grade A Thanaka Powder
Keep your skin younger

What people are saying about us...
★ ★ ★ ★ ★

"I've been using proactive for years, but it never fully got rid of my acne. I decided to try healing bark in my routine, and OH MY GOD!!! my skin looks better than ever before!!"
★ ★ ★ ★ ★
"... and after using it for a month I can definitely say its worth the money! It's helped clear up my acne and redness so much. I use it almost every night."
★ ★ ★ ★ ★
"Healing bark has been a miracle for my sensitive skin- other face masks irritate me but this one is all natural so it doesn't. My skin looks so much brighter and healthier!"
★ ★ ★ ★ ★
"... so I bought this for my daughter to try and she hasn't had a single breakout in over a month! Her acne isn't totally gone, but her skin looks the best its looked all year."