Use and Benefits of Thanaka Powder
Thanaka powder has often times been referred to as a "superfood" for the skin and for good reason. It is regarded by Myanmar women as the secret to beautiful, healthy skin and has been used as a face mask for centuries. Thanaka powder is made by grinding the bark of the slow-growing Thanaka tree that grows in Myanmar's arid central region.  It has been said that it takes the tree 35 years to mature and become viable. However, there are numerous Thanaka farms today that only need 3 to 7 years of growth before putting the product on the market.
Medical Research
Despite its ethnographic complexities, it can easily be said that Thanaka powder is the ideal combination of a cosmetic, preventative health care, and traditional product of the Burmese culture. Throughout time, locals have believed that the cream or paste made from the ground bark cools the skin, heals wounds, helps to control acne, protects the skin from the sun's harmful UV rays while worn as a thick paste, and helps skin irritations. So, what has medical research said about Thanaka?
Unfortunately, it's the cultural information about it that is so widespread while the clinical data is somewhat scarce.  Interestingly enough, there is little if any evidence to confirm or refute any traditional medicinal use.  Furthermore, there have been no studies that have evaluated Thanaka powder for clinical reasons.  Where government regulatory agencies such as the FDA are concerned, this is a common prerequisite. 
What we know about Thanaka
Ten years ago, a Thailand research group dissected the chemical components of the Hesperethusa crenulata tree bark (one of the trees that Thanaka powder is derived from).  They discovered certain active compounds that contained mild anti-bacterial activity as well as anti-inflammatory and antioxidant properties. The research implied that there could be a physiological explanation for its supposed preventative and therapeutic efficacy.  Unfortunately, there are no known studies involving humans.
How is Thanaka sold?
If you visit Myanmar and spend the day shopping the dozens of street markets that commonly operate throughout the day in many communities, you'll find it is sold indifferent forms.  Some merchants sell as the raw wood in 1" to 6" thick branches while others sell it as a ready-to-use cosmetic containing some additional ingredients.  In addition to this, some of the locals' market it as a pre-packaged health product even though it isn't regulated by a drug regulatory agency. However, it is being used in the West as part of the cosmetic industry transition into organic products and ingredients.
Why is Thanaka powder so beneficial?

While many of us are familiar with certain organic products that provide a wide range of benefits such as beeswax, cocoa butter, coconut oil, shea butter, and zinc oxide, Thanaka has become a major player in the marketplace. Here's why it is so beneficial and has become so popular:
It doesn't work against nature.
It is believed that it is a natural sunscreen that nourishes the skin with antioxidants.
It is eco-friendly and uses a regenerative and sustainable ingredient.
It is influenced by cultural tradition which helps us to understand its effectiveness.
It is rich in Vitamin E which protects the skin from free radicals and pollutants.
Given all of the above, it should be easy to understand why Thanaka powder has been used for centuries in the Burmese culture.
A Variety of Face Masks
Thanaka powder is most commonly turned into a crème or paste and applied as a face mask or facial cleanser.  However, there are a variety of face masks that you can take advantage of in addition to the more traditional one.  For instance, you can create a face mask that traditionally they believe nourishes and rehydrates the skin by mixing the Thanaka powder with honey and milk.  To brighten, smooth, and soften your skin, you can mix the powder with coconut oil, honey, and turmeric.  If you want to decrease the size of your pores and reduce impurities, mix the powder with chamomile tea.
To learn more about the benefits and effectiveness of Thanaka visit our website for additional information about our products.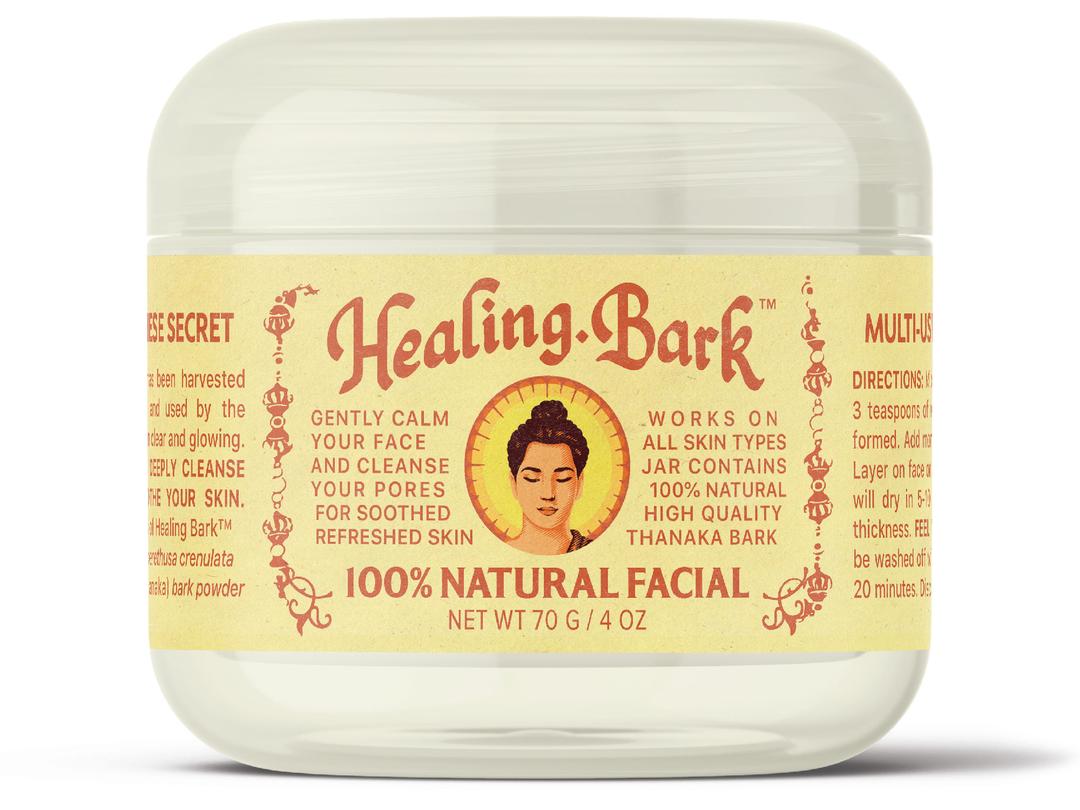 Original Healing Bark Face Mask

100% Pure Thanaka Powder from hidden Myanmar forests
Used by locals to keep skin clear and glowing for centuries
100% Pure Grade A Thanaka Powder
Keep your skin younger

Healing Bark Mask Kit

(1) Original Healing Bark Mask and (1) Healing Bark Mixing Set


Used by locals to keep skin clear and glowing for centuries
100% Pure Grade A Thanaka Powder
Keep your skin younger

What people are saying about us...
★ ★ ★ ★ ★

"I've been using proactive for years, but it never fully got rid of my acne. I decided to try healing bark in my routine, and OH MY GOD!!! my skin looks better than ever before!!"
★ ★ ★ ★ ★
"... and after using it for a month I can definitely say its worth the money! It's helped clear up my acne and redness so much. I use it almost every night."
★ ★ ★ ★ ★
"Healing bark has been a miracle for my sensitive skin- other face masks irritate me but this one is all natural so it doesn't. My skin looks so much brighter and healthier!"
★ ★ ★ ★ ★
"... so I bought this for my daughter to try and she hasn't had a single breakout in over a month! Her acne isn't totally gone, but her skin looks the best its looked all year."