Thanakha Powder
Thanaka powder is a favorite beautifying agent that when mixed with water is applied to the face for cosmetic purposes. The powder used to make the face mask is made by grinding the bark of the Hesperethusa crenulata and Limonia acidissima trees which are indigenous to Myanmar's central dry zone. In order to yield the highest quality Thanaka, the tree must be a minimum of 35 years old. However, many Thanaka farms today produce trees that are ready for market within 3 to 7 years.
The earliest mention of Thanaka in literature appears in the 14th century in a poem composed by King Razadrit's consort. It's also mentioned in the 15th century Burmese literary works of the monk and poet Shin Maharatthasara. Furthermore, it was said that the Queen of Peikthano was a lover of Thanaka and its beautification properties.

Nature's Gift for Happier, Healthier Skin
We live in a world controlled by technology. Consequently, many of the retail beauty aids and cosmetics available today work against nature and our environment. As a result, we lose sight of nature's effectiveness when it comes to solving our everyday problems. By learning about the Burmese culture and traditions, we can apply them many of our modern-day necessities. Additionally, by developing more natural beauty and cosmetic solutions from regenerative and sustainable sources, we can promote longevity and leave a smaller carbon footprint in our environment.
Thanaka's many Benefits
The popularity of this amazing product is attributed the many Thanaka powder benefits that people believe in.  Its value as a beauty and cosmetic product is founded in three core principles:
Cultural and traditional influence 

– when we learn about Burmese cultural practices, we begin to realize how using Thanaka powder demonstrates the simplicity of working with nature.



Less environmental impact 

– the use of Thanaka as a sunscreen rather than using commercial products containing zinc means less mining of the mineral and relying on a regenerative, more sustainable ingredient.



Working with nature rather than against it 

– by studying other cultures and learning from them, we understand the simplicity of getting back to basics and working with nature rather than against it.



There are numerous Thanaka powder benefits to be aware of as per the traditional belief of the Burmese people. For example, Thanaka contains arbutin, a skin brightening agent. However, the two primary ingredients are coumarin and marmesin. Coumarin gives Thanaka its anti-bacterial, anti-fungal, anti-inflammatory, and antioxidant qualities while marmesin helps to absorb the skin damaging UV rays of the sun.
Thanaka benefits also include being rich in Vitamin E which protects against certain compounds that damage skin cell structure such as free radicals and pollutants. Your skin loves Vitamin E because of its anti-bacterial, anti-inflammatory, and antioxidant properties. Furthermore, another one of the many Thanaka powder benefits is its effectiveness as a skin moisturizer. The cooling and hydrating properties make it an excellent sunscreen.
Thanaka Face Mask
Thanaka powder benefits are best realized when creating the creamy, yellowish paste and using it as a face mask. If you were to visit Myanmar and other areas of southeast Asia, you would see Burmese women wearing Thanaka on their faces and hands. Yet while some men also use it, it's a rare occurrence at best. Aside from women, you will also see the paste worn in thick patches on infants and toddlers as they believe that it creates a barrier from the sun and help them enjoy clearer skin as they grow up.
In addition to this, Thanaka powder can be mixed with other ingredients to produce face masks that provide different results. For example, if you want a gentle exfoliating paste, you can combine the powder with honey and milk. If you want a face mask that can brighten, smooth, and soften the skin, mix the powder with avocado or coconut oil, honey, and turmeric powder.  Finally, if you want to reduce the size of your pores and skin impurities, you would mix the powder with chamomile tea and green clay.
To learn more about Thanaka powder benefits and how to use the paste or powder on your skin, we encourage you to visit our website today.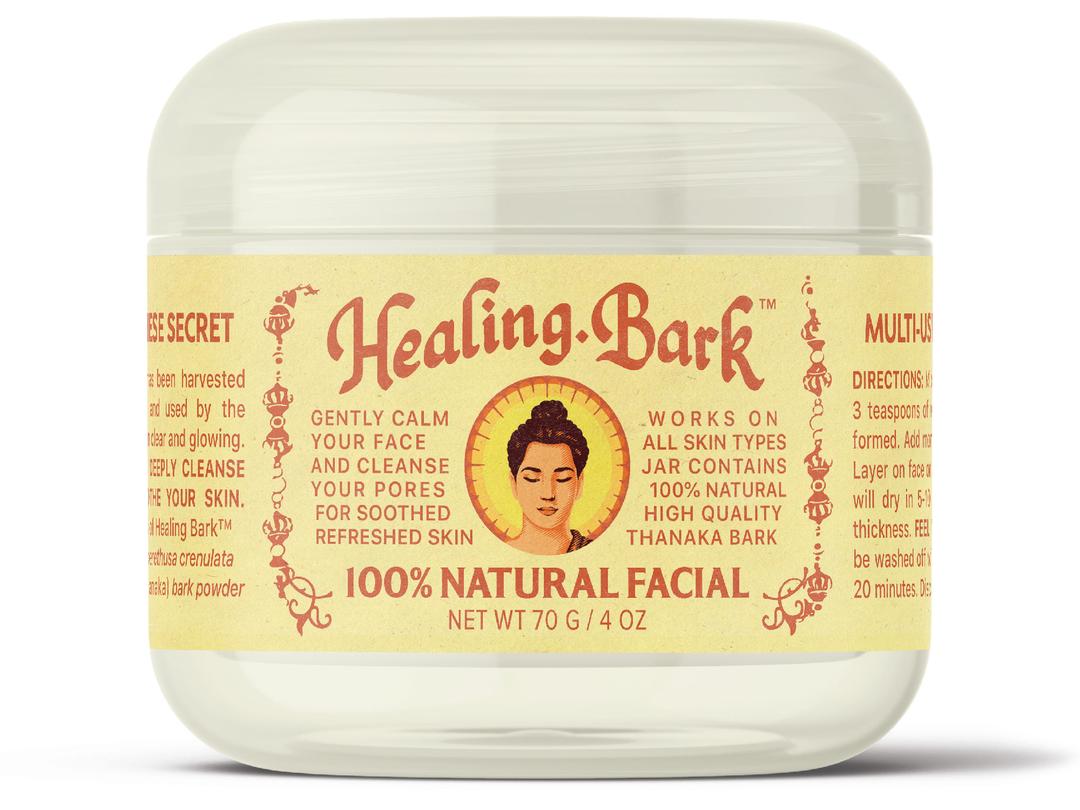 Original Healing Bark Face Mask

100% Pure Thanaka Powder from hidden Myanmar forests
Used by locals to keep skin clear and glowing for centuries
100% Pure Grade A Thanaka Powder
Keep your skin younger

Healing Bark Mask Kit

(1) Original Healing Bark Mask and (1) Healing Bark Mixing Set


Used by locals to keep skin clear and glowing for centuries
100% Pure Grade A Thanaka Powder
Keep your skin younger

What people are saying about us...
★ ★ ★ ★ ★

"I've been using proactive for years, but it never fully got rid of my acne. I decided to try healing bark in my routine, and OH MY GOD!!! my skin looks better than ever before!!"
★ ★ ★ ★ ★
"... and after using it for a month I can definitely say its worth the money! It's helped clear up my acne and redness so much. I use it almost every night."
★ ★ ★ ★ ★
"Healing bark has been a miracle for my sensitive skin- other face masks irritate me but this one is all natural so it doesn't. My skin looks so much brighter and healthier!"
★ ★ ★ ★ ★
"... so I bought this for my daughter to try and she hasn't had a single breakout in over a month! Her acne isn't totally gone, but her skin looks the best its looked all year."