What is Healing Bark?
The Asian continent is well-known for its love of beauty products and natural cosmetics.  However, most people living on the other 5 inhabited continents are unfamiliar with a Burmese product known as "healing bark".  The product is made by grinding the bark of the Limonia acidissima and Naringi crenulata trees into what is referred to as100% natural Thanaka powder.  The powder is mixed with water to form a cream or paste that is applied to the face and hands.
It takes 2 to 3years for the trees that the product is derived from to grow.  However, it takes 3½ decades before it can be turned into a beauty product.  In order to transform the healing bark into a beauty product, it is then pulverized on a wet stone slab until it becomes a paste. It is known for its fresh sandalwood scent and silky texture.  The cream or paste is often applied to the faces of infants as well as traditionally, they believe in helps them to have clearer skin as they grow older.
Qualities of Healing Bark
For centuries,women and young girls have used healing bark as a skin moisturizer due to itshydrating qualities.  Although it isprimarily used by females, men and young boys use it as well.  Often referred to as nature's sunscreen, italso has antioxidant qualities. 
Furthermore, Thanaka is rich in Vitamin E which protects the cell structure of the skin fromthe damaging effects of free radicals and pollutants.  In addition to this, it also hasanti-bacterial and anti-inflammatory properties which can help to treat acne.

Research behind the Product
Although there is need for additional research, that which has been conducted so far has revealed some significant findings.  For instance, the primary active ingredients in healing bark are coumarin and marmesin.  In a recent study, it was found that coumarin has powerful anti-aging, anti-bacterial, anti-fungal, antioxidant, and phytochemical (chemical compounds produced by plants) properties.  Today, the cream or powder is used in numerous beauty products including anti-fungal products and treatment for acne
Historical use of Healing Bark
Healing bark or Thanaka has been used for centuries by Burmese (Myanmar) women because they believed that it prevented the skin from showing signs of aging and helped to treat acne.  Many individuals wear it today because of they believe in its ability to fight off free radicals which cause acne. Burmese women will often use it multiple times throughout the day and will apply thick layers of it to their infant's and children's skin as they believe it creates a barrier against the sun rays.
Benefits of HealingBark
Despite the need for more research, there is a lot we know today where the product's many benefits are concerned.  For instance, we know that Thanaka is a natural skin cleanser that deeply cleans the skin by removing the dirt and impurities often found deep within the pores.  Additional healing bark benefits include:
Alleviates temporary discomfort and redness
Balances the skin's natural oils
Clarifies the skin
Calms and cools the skin
Creates an even, glowing complexion
Evens out skin tone appearance
Gently exfoliates without irritation
Improves skin tone appearance
Smooths uneven skin texture
Refreshes and soothes the skin
Research has also shown that healing bark contains some of the most important active ingredients that are conducive to healthier skin.  Consequently, Thanaka is suitable for most skin types and is often used in ayurvedic (alternative medicine) treatments.
When used as a cleanser, the extremely fine particles found in the cream or paste can remove dead skin cells found on your skin's outermost layer.  When used on the face, this results in smooth, softer skin.  Additionally, Burmese women who are out in the southeast Asian sun for long periods wear the cream because they believe in its skin-cooling and protective properties.  The basic face mask is comprised of 1 or 2 teaspoons of Thanaka powder mixed with 1 or 2 teaspoons of water.
Age-Old, Time Tested Beauty Secret
Interestingly enough, we are constantly exposed to advertisements about dozens of modern beauty and cosmetic products that promise to make us look younger and more vibrant.  Yet this ancient product has proven time and again that it is equally as effective as these overpriced retail brands.
For additional information about healing bark or Thanaka, visit our website today.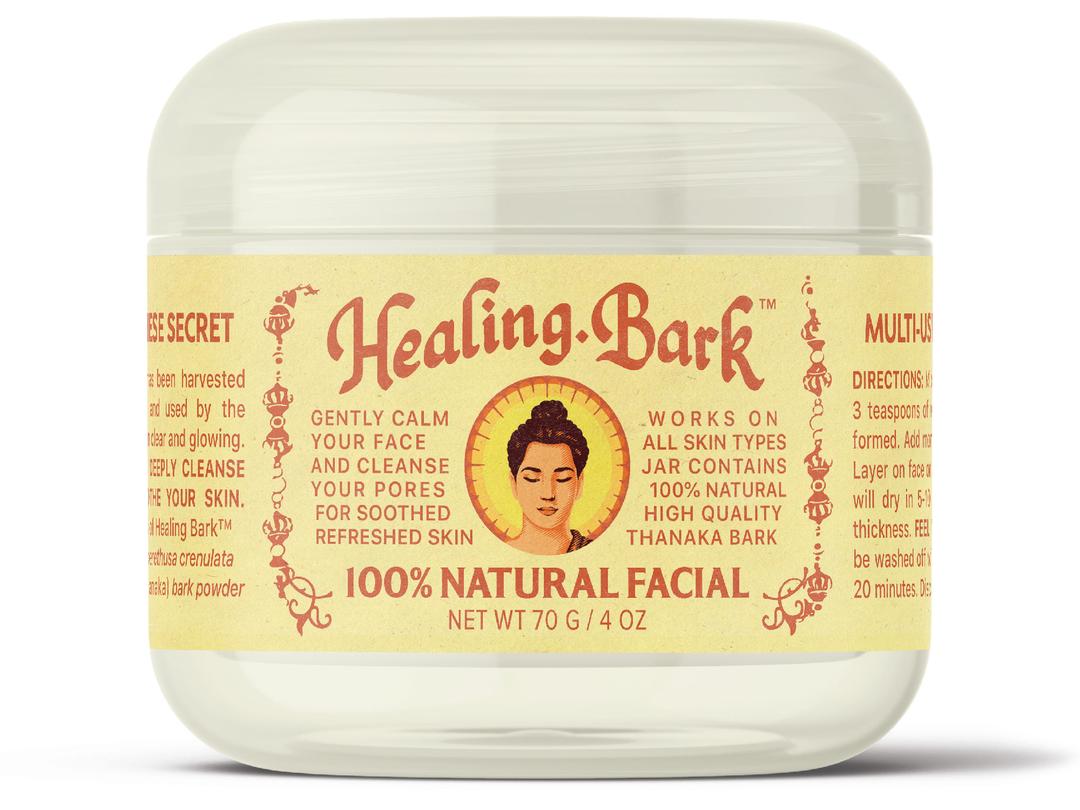 Original Healing Bark Face Mask

100% Pure Thanaka Powder from hidden Myanmar forests
Used by locals to keep skin clear and glowing for centuries
100% Pure Grade A Thanaka Powder
Keep your skin younger

Healing Bark Mask Kit

(1) Original Healing Bark Mask and (1) Healing Bark Mixing Set


Used by locals to keep skin clear and glowing for centuries
100% Pure Grade A Thanaka Powder
Keep your skin younger

What people are saying about us...
★ ★ ★ ★ ★

"I've been using proactive for years, but it never fully got rid of my acne. I decided to try healing bark in my routine, and OH MY GOD!!! my skin looks better than ever before!!"
★ ★ ★ ★ ★
"... and after using it for a month I can definitely say its worth the money! It's helped clear up my acne and redness so much. I use it almost every night."
★ ★ ★ ★ ★
"Healing bark has been a miracle for my sensitive skin- other face masks irritate me but this one is all natural so it doesn't. My skin looks so much brighter and healthier!"
★ ★ ★ ★ ★
"... so I bought this for my daughter to try and she hasn't had a single breakout in over a month! Her acne isn't totally gone, but her skin looks the best its looked all year."