What is Thanaka?
Known for its ability to create a barrier from sun's harsh UV rays, the women put on the Thanaka paste on the face and skin. Thanaka (Healing Bark) powder is made by grinding the bark of Naringi crenulata and Limonia acidissima, that are colloquially known as wood-apple, sandalwood, elephant-apple, or curd fruit trees. As a feature of Myanmar culture, it is commonly applied to a person's face and occasionally on the arms of girls and women as they believe that it shields their skin against sunburn. It is used by boys and men as well but to a lesser extent. Furthermore, Burmese women have been using this powder for over 2,000 years.
The first historical documentation of its use dates back to the 14th century where it appeared in a poem in King Rajadhirat's court, the great unifier of Myanmar (then Burma). Today, you can find Thanaka throughout Buddhist, Muslim, and other ethnic minority communities as it is just as much apart of the Burmese culture as the sarong-like skirt worn by both genders (the "longyi"). Its use has spread to Thailand and other neighboring Asian countries as well.


Preparation, Properties, and Application
The powder is made by grinding thanaka bark, on a circular slate or stone slab with small amounts of water. The grinding slab is known as a "kyauk pyin" and has an arrow channel around the edges to catch the water that drains of when making the paste.
The powder exudes a fragrant scent that is similar to sandalwood and is typically applied to one's face in an attractive design. The most common design is a circular patch on the cheeks and across the bridge of the nose. It is often patterned in a leaf shape but is also applied with the fingers in a stripe-like design. According to several experts, there is no comparison to modern day cosmetics or make-up. OTC cosmetics from beauty supply and department stores tend to destroy the complexion. While traditionally, Burmese women believe that Thanaka helps to keep the skin clear and prevents aging.
We know that as most users of the product will attest, the healing power of the product extends far beyond keeping the skin safe. They believe that the Healing bark combats wrinkles, repels mosquitos, and a sunblock agent. The end product has the look and feel of dry corn flour, but once it is reconstituted with water, it can be applied with the fingers or sticks.
Belief in the properties of Thanaka
Most people are familiar with organic products such as beeswax, cacao powder, cocoa butter, coconut oil, Shea butter, and zinc oxide. However, few are aware of Thanaka and its benefits. In so many words, it is the skin's super food and provides the following 5 outstanding benefits:
Lower environmental impact

– nothing is mined to produce the product so there is no impact to the environment.  Consequently, the goals of those who help to produce Thanaka are committed to protecting the planet.
Nature's sunblock

–Traditionally, it is believed that once it has been applied to the skin, it functions as a shield against the damaging UV rays of the sun.
Packed with Vitamin E

– Thanaka has an extremely highVitamin E content. That maybe the reason that local Burmese believe that this help to create a barrier from the sunrays, while it seems to have potential qualities as antibacterial, anti-inflammatory, and antioxidant, all of which your skin loves.
Traditional influence

– Upon examining influence of localtraditions regarding Thanaka, we understand more about its powers andeffectiveness. The use of the product by the local culture demonstrates how workingwith nature is not only powerful, but effective.
Works in conjunction with nature

– the indigenous remediesprovided by Thanaka help to enhance our relationship with nature rather thanworking against it.  By using theproduct, we are following traditional Burmese practices, going back to nature'sbasics, and working to create a healthier planet.
Anyone in the world can use cheap cosmetics. However, if you are looking for organic products, we have the right combinations to help your skin rejuvenate.
Cautions and potential Side Effects
At Healing Bark, we would like to let you know that anyone that has a history of allergic reactions to Thanaka should avoid using it as it may cause symptoms such as itching or a skin rash. While it is considered safe for external use, the oral consumption is not recommended. If you have mistakenly ingested, seek immediate medical assistance.
To learn more about Thanaka, how to use it, and its benefits, visit the Healing Bark. Our business representatives would be happy to assist you with more information about our range of products. Callus today.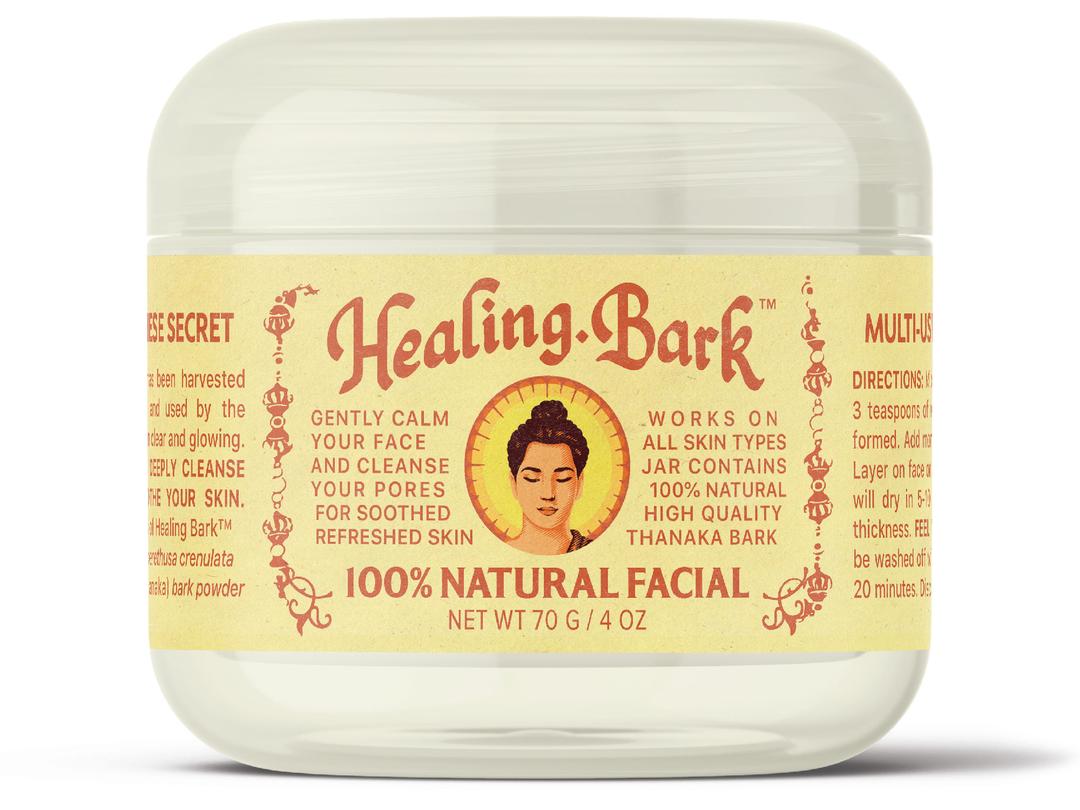 Original Healing Bark Face Mask

100% Pure Thanaka Powder from hidden Myanmar forests
Used by locals to keep skin clear and glowing for centuries
100% Pure Grade A Thanaka Powder
Keep your skin younger

Healing Bark Mask Kit

(1) Original Healing Bark Mask and (1) Healing Bark Mixing Set


Used by locals to keep skin clear and glowing for centuries
100% Pure Grade A Thanaka Powder
Keep your skin younger

What people are saying about us...
★ ★ ★ ★ ★

"I've been using proactive for years, but it never fully got rid of my acne. I decided to try healing bark in my routine, and OH MY GOD!!! my skin looks better than ever before!!"
★ ★ ★ ★ ★
"... and after using it for a month I can definitely say its worth the money! It's helped clear up my acne and redness so much. I use it almost every night."
★ ★ ★ ★ ★
"Healing bark has been a miracle for my sensitive skin- other face masks irritate me but this one is all natural so it doesn't. My skin looks so much brighter and healthier!"
★ ★ ★ ★ ★
"... so I bought this for my daughter to try and she hasn't had a single breakout in over a month! Her acne isn't totally gone, but her skin looks the best its looked all year."